taylor swift album ranking and my fave songs + commentary
tuesday, june 27, 2023

Edit 230628: I GOT THE TICKETS!!!!!!!!!!!
i saw a girl on tiktok calculate her favorite taylor swift album by rating EACH SONG in each album on a spreadsheet, getting the average of the songs per album, and then using those averages to rank the albums. i did this before with seventeen, my last musical obsession, and jumped at the chance to do it again with my latest one. i was thinking about making a tswift shrine, but honestly i just wanted a place to ramble about her songs, so maybe this is enough...!
a bit of history: i've loved taylor since i was a youth, but as a casual... i think i started keeping up with her properly a bit after reputation, and then i really got into her during the pandemic, with folklore as my gateway.
anyway without further ado: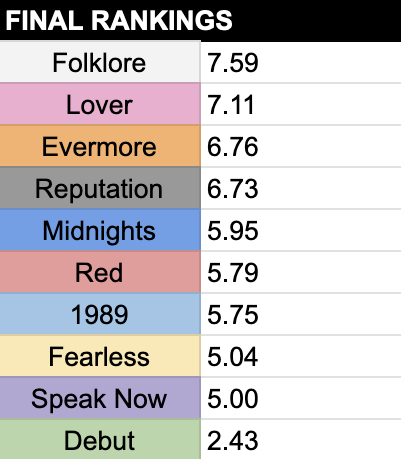 initial thoughts: i ranked them based on instinct before i filled out the sheet, and the first four were already solidly in those places. THE OTHERS THOUGH... my instincts could not have been more scrambled.
i'll go through the albums from bottom up with some standout songs!

debut
i'm so sorry miss taylor. i really only have listened to teardrops on my guitar and picture to burn. i don't really have any burning interest in listening to any of the other tracks... there were a couple that came on shuffle once that i liked but not enough to remember to go back to!

speak now
i'm only recently getting into speak now! the taylor's version hype is real.

mine: YOU MADE A REBEL OF A CARELESS MAN'S CAREFUL DAUGHTER. YOU ARE THE BEST THING THAT'S EVER BEEN MINE. what the hell?????????????? goodbye.
back to december and dear john: i'm not the biggest fan of dramatic teary songs but i think it's made a huge difference that i've seen people sing these songs with their whole chest like literally screaming. i think that's soooo fun. also the stuff taylor lautner has to say about these two songs in particular is pretty funny. ("i got a good song. praying for john though" like? unprovoked?)
enchanted: everyone i know loved enchanted as their fifth grade i-wanna-be-in-love song but i was not one of those people. maybe it got overplayed? maybe i like a bit more fun!
better than revenge: this song is SO MUCH FUN i just want to kick and punch things!!! i am suddenly 17 and a bitch towards other high school girls for no real reason
long live: this song gets me in my passage of time feelings... the NOSTALGIA. this was a big song in high school when people wanted to be prematurely nostalgic for high school, which is kind of funny, but it still gets me
ours: a recent fave! i just like it.

fearless
fearless is honestly wonderful. there are a lot of songs i really like, but none i'd like... start a fight at a bar about. you know? not that i am the type of person to do that. i think i need a bit more LONGING and ANXIETY for something to really hit, and the albums i've ranked low are too young to have much of that. but i also like them for their youthfulness!

fearless: "you pull me in and i'm a little more brave" augh. AUGH!!!!!
hey stephen: oh this song is FLIRTY. like? i just get vibes of a young girl playing at being the charming woman she'll become in the future. really cute.
white horse: somehow when she says "i'm gonna find someone someday who might actually treat me well" it HURTS me.. the whole song has this fairytale metaphor going on and it's most used in the chorus, but in this last chorus she breaks from the metaphor for THAT straightforward line, betraying how hurt she actually feels!!! sorry i'm insane about this
the way i loved you: i really like when people make edits of their good boy faves / bad boy faves to this song. it's like when people used to make edits of their favorite boys the song "boys" by charli xcx. i just love a collection of blorbos
forever and always: i knew this song was popular In My Youth but i never listened to it because i thought it would be another weepy song, until i finally listened to it when the rerecording came out and? it goes so hard?? ok!!!
the best day: my sister and i recorded ourselves singing this for our mom once. i still get teary about "don't know how long it's gonna take to feel okay, but i had the best day with you today" (got teary typing that... the hell....)
superstar: SO DIMMMM THAT SPOTLIGHT TELLLLL ME THINGS LIKE "IIIIII CAN'T KEEP MY EEEEYES OFF OF YOU" I'M NO ONE SPEEEECIAL JUST ANOTHER WIDE! EYED! GIRL! WHO'S DESPERATELY IN LOVE WITH YOUUUU
mr. perfectly fine: i love a petty upbeat song!

1989
as an Upbeat Song bitch, i should really like 1989 more than i do! i think it fell a little short lyrics-wise though. but this was The Big Pivot To Pop so i understand. i'm honestly surprised it ranked above fearless though – i feel like i have fewer standout faves here, but i guess i enjoy more tracks/am less prone to skipping.

i really like how tongue-in-cheek blank space was. it was a nice little way to make fun of the fact that her dating life was to a lot of people the most important thing about her.
ARE WE OUT OF THE WOODS YET ARE WE OUT OF THE WOODS YET ARE WE OUT OF THE WOODS YET ARE WE OUT OF THE WOODS

a very recent fave. it's addicting!

you are in love: "one night, he wakes / strange look on his face / pauses, then says / 'you're my best friend' / and you knew what it was / he is in love" AUGH!!!!!!!!! THE SIMPLICITY OF ROMANCE!!!!! *i break down*

red
ok we're getting to the albums that make me start throwing things.

love the musical shift in state of grace!
all too well: WE'RE DANCING 'ROUND THE KITCHEN IN THE REFRIGERATOR LIGHT

this is a song you sing with your whole chest and i'm insane for it
the way she goes into AND YOU CALL ME UP AGAIN JUST TO BREAK ME LIKE A PROMISE like stoppp!!!

the lucky one: i like when she does narrative songs!
starlight: another narrative song, AND one that gets me in my passage of time feelings Yet Again. it's such an upbeat song but i'm always just like augh... the joyfulness of youth...
girl at home: same fun vibes as "i know you have a girlfriend" by carly rae jepsen, only this time she doesn't want him LOL
all too well (10 minute version): i get older but your lovers stay! my! age!
ronan: jesus christ. even thinking about it is making me tear up. "you were my best four years" my GOD
nothing new: oh. listen. this song shot me dead. i can't quote the entire thing on this post but it really captured my post-college mid-pandemic hopeless melancholy and general anxiety of having outgrown the shininess and charm with which my loved ones regarded me! ah girlhood!
i bet you think about me: i clearly love her pettiest songs.

midnights
i am fucking SURPRISED that this is so high up! i'm looking at the numbers but i can't really tell why it's up here when i don't have any major faves. i don't have any faves off of midnights - i was kind of a hater when i first listened through the album but i was also this way with evermore and look where that is. so the moral of the story is sometimes my instinct is just a hater and she needs to give more things a chance.

(i guess midnights, red, and 1989 don't have that big a difference in score so... the ranking probably fluctuates each week depending on my mood.)

you're on your own kid is Heartening. it feels like growing up.
vigilante shit: the cat eye opening line is funny. but i quite like "picture me thick as thieves with your ex-wife" like? kind of spicy! okay!
bejeweled and karma: sister songs. fun!
mastermind is validating to me, as an insane person who plans everything
would've, could've, should've: GIVE ME BACK MY GIRLHOOD IT WAS MINE FIRST!!! also the church imagery in this one kinda fucks
hits different: "i pictured you with other girls in love❤️...then threw up on the street" good line
you're losing me: this was NOT part of the ranking sheet BUT I NEED TO MENTION IT BECAUSE it would probably be my "start throwing shit" song off of this album. fuck. do something babe say something. LOSE SOMETHING BABE RISK SOMETHING.

reputation
i will start by saying i did not like the cover for this album. so it shocks me that i like the songs so much. many of them are songs that make me want to destroy things. i think these next four albums are the ones i love most lyrically like? girl what the hell

ready for it...?: "holding him for ransom – some – some boys are trying too hard, he don't try at all though" that transition is SO fun
end game: i do not care for the features but i'm trying to stockholm syndrome myself since i like her parts...
don't blame me: OHHH LORD SAVE ME MY DRUG IS MY BABY I'LL BE USING FOR THE REST OF MY LIFE (USING FOR THE REST OF MY LIFE OOOHHHHHHH)

SO obsessive. I'M obsessed with it.
i wish i could like... clip sections of the song it's not enough for me to quote it you have to HEAR the choir

getaway car: not a NEW fave but i got into it fairly late into my journey to being a diehard fan. this is one of those songs one would assign to their favorite ship. i have no ship i instinctively think of but i love this song anyway. loved that bridge!
king of my heart: a new fave! it's suchhhh a good crush song... it's hopeful and cheeky and stylish. and all at once you are the one i have been waiting for, king of my heart!

evermore
i was coming into evermore from folklore (well. most people were.) and because i was such a folklore stan it took a while for evermore to grow on me, but now i really love it. there are so many stories. i love a story!

champagne problems: it feels like a short story you'd read in english class. it's quiet and sad but calm and cute! i adore it
gold rush: people call themselves mirrorball girlies or this is me trying girlies... i am a gold rush girlie. i, Too, don't like slow motion double vision in rose blush, i don't like how falling feels like flying til the bone crush, etc, etc

i just love the "i do not WANT to like you. i am NOT imagining a life together. i'm INDIFFERENT and you DON'T CRUSH ON ME ANYWAY which is FINE" of it all
another ship/blorbo assignment type song

tis the damn season: i sing along to this as if i have an old flame who still lives in the midwestern american suburb that the fictional white american version of me grew up in and i'm not over them.
tolerate it: the bitterness! the flavor

"i gave you my temple, my mural, my sky / now i'm begging for footnotes in the story of your life"

no body, no crime and cowboy like me: you'd THINK these songs were sister songs but NOT REALLY... the tone is so different... but both of them have a western theme going on that i didn't think i'd dig but i DO.

cowboy like me is more like getaway car's sad western sister. i like that it feels like it starts in the middle of the song? feels immersive. Wistful
no body no crime is sooo sneaky and i love when songs have Named Characters in their story!

dorothea and ivy: queercoded, i think. also so nostalgic for some reason. what the hell was taylor eating when she wrote evermore. all these stories that feel like part of your past when they're not.

dorothea was my first fave off this album. as a fire emblem fan,

coney island and evermore: these two hurt lol. i don't wanna talk about them but i like them so much i have to mention them

lover
the anxiety album! i believe reputation is the true Romance Album despite lover being named how it is because lover is so. Stressed Out. and that is why i like it SO MUCH. it's an album i want to yell out. i think there's only one song on here i can't quite sing along to for lack of familiarity (false god - surprise surprise, the supremely chill song) but everything else i've probably replayed a million times.

cruel summer: IT'S NEW THE SHAPE OF YOUR BODY IT'S BLUE THE FEELING I'VE GOT AND IT'S OOH AHH IT'S A CRUEL SUMMER

IT'S COOL, THAT'S WHAT I TELL HIM
NO RULES IN BREAKABLE HEAVEN
i hate this song. it possesses me.
"i scream for whatever it's worth / i love you, ain't that the worst thing you ever heard? / he looks up, grinning like the devil" what the hell!!!

lover: can i go... where you gooo... can we always... be this close... (tears up)

this is also a common parent-child dance song at weddings, which is why i tear up

the man: it's FUN and CHEEKY and PETTY
the archer, afterglow, daylight: somehow these three songs are a pack for me. they have a very otherworldly kind of sound to them

daylight's bridge is crazy. it's the "i used to think i knew what love was, but now i know it's this" of it all. AUGH

death by a thousand cuts also has a bridge i love. another song to yell
MISS AMERICANA AND THE HEARTBREAK PRINCE just fucks. i can't describe how i like this song
cornelia street i have a soft spot for because it's my song for piers and milly... but also because "hope i never lose you, hope it never ends / i'd never walk cornelia street again" my god

and baby i get mystified by how this city screams your name!

london boy is just fun idc! she is allowed to have songs just be cute and fun!

folklore
we've arrived. folklore my beloved... i don't even know how i became so obsessed with this album. i guess it just got me at the right time! the melancholy of this album hit hard during the pandemic and was supercompatible with my own melancholy i guess... also there were a number of songs i listened to with Blorbovision (blorbohearing?) so that may have contributed. all in all i love this album. it's a no skip album for me!

(but i will skip some in these writeups, because it is almost 3am.)

the 1: honestly? one of the happier songs on the album. i like how you get started off with "oh aw we could have had something good. but i'm doing well in my own life now. and so it's all okay. but still i think about you sometimes"... it's a refreshing intro
cardigan, august, betty: the trinity. i've been goign through songs by track number but i have to bump up august and betty now BECAUSE. they are my original "throwing shit" "beating people with hammers" songs. (i love cardigan too, so much, but the latter two had a stronger influence on me.)

august: SALT AIR AND THE RUST ON YOUR DOOR. I NEVER NEEDED ANYTHING MORE.

i could quote this whole song. it's young, like the albums i've ranked lower, but written for sure by someone who is looking back on that time and remembering how it felt like, rather than someone who is in it. the LONGING. it's twofold – the person speaking longing for something that she had fleetingly, the adult longing for that time in her youth. god. fuck
"your back beneath the sun / wishing i could write my name on it / will you call when you're back at school?"

betty: the chokehold this song had on me. i think it helped i was obsessed with a pairing where one of them utterly fucked up and hurt the sweet other one, and it would have been sexy to see him apologize.

but it's also so sweet and young.
"would you kiss me on the porch in front of all your stupid friends?"

my tears ricochet: the pain in this one! i honestly read this song as more a friend breakup than a romantic one.

either way it's a dimilix song to me!
"and i can go anywhere i want / anywhere i want, just not home"
"and i still talk to you when i'm screaming at the sky"

this is me trying: i don't know if i have the right to relate to this but i cried watching the long pond studio sessions version of it lol.
illicit affairs: "don't call me kid, don't call me baby" "you showed me colors you know i can't see with anyone else" the fuck???????? Stop
hoax: i'll need to write a separate insane post about how this song is soooo dimilix.

so that's that. whew. i'm winded.
i still vacillate between being a little embarrassed by how much i love tswift (her music in particular, although i quite like her too to an extent) and absolutely claiming it. i think it depends on who i'm around... so i think it's important i claim it on my own site. she is my favorite music artist! i listen to her music every day! her songs mean a lot to me!
anyway... i'm trying to get tickets to her international tour, and tomorrow i'm participating in the bloodbath that is a presale, so i'm in a taylor-related anxious mood and thought i might as well get that energy out :•) i had fun writing this post... i have no real idea what i would like to use this diary for or how i'd like to organize it, but this is a good start imo.
ok! good night!